Discover more about the influential presidents and chief executives that helped us reach our 10th anniversary
Professor Dame Julia Goodfellow CBE FMedSci FInstP CBiol FRSB
Royal Society of Biology, President, 2018 - present

Julia is renowned for academic achievement in the fields of biophysics and biomolecular science and her service across the biosciences.
Her career achievements include 20 years at Birkbeck College, chief executive of BBSRC (2002-07), chair of the British Science Association (2009-14), Vice-Chancellor of the University of Kent (2007-17), Science and Technology Facilities Council member (2011-16) and President of Universities UK (2015-17). She is a member of Prime Minister's Council for Science and Technology and chair of Public Health England.
Julia was awarded a CBE in 2001 and a DBE for her services to science in 2010.
Professor Dame Jean Thomas FRS FMedSci Hon FRSB
Royal Society of Biology, President, 2014 - 2018

Jean is a distinguished biochemist and her research interests are in the structure, function and dynamics of chromatin and chromatin-binding proteins.
Her career achievements include Master of St Catharine's College at the University of Cambridge (2007-16), biological secretary and Vice President of the Royal Society (2008-2013), a governor of the Wellcome Trust (2000- 2007), President of Techniquest Science Centre (2005-2008) and member of the Internal Merit Promotion Panel of the Research Councils (2000-2009; Chair from 2006).
Jean is currently Chancellor of Swansea University
In 1993 Jean became a CBE for services to science, and in 2005 a DBE for services to biochemistry.
Professor Dame Nancy Rothwell FRS FMedSci CBiol Hon FRSB
Society of Biology, President, 2009 - 2014 and Bioscience Federation, President, 2006 - 2009

Nancy trained as a physiologist and her neuroscience research has contributed towards major advances in the understanding and treatment of brain damage in stroke and head injury.
Nancy became President and Vice-Chancellor of The University of Manchester in July 2010. She has served as a non-executive director of AstraZeneca, is currently Co-Chair of the Prime Minister's Council for Science and Technology, a Deputy Lieutenant for Greater Manchester and a member of the Northern Powerhouse Partnership Board.
She was elected Fellow of the Royal Society in June 2004 and made DBE in June 2005 in recognition of her services to science.
---
Chief Executives
Dr Mark Downs CSci FRSB
Royal Society of Biology, Chief Executive, 2009 - present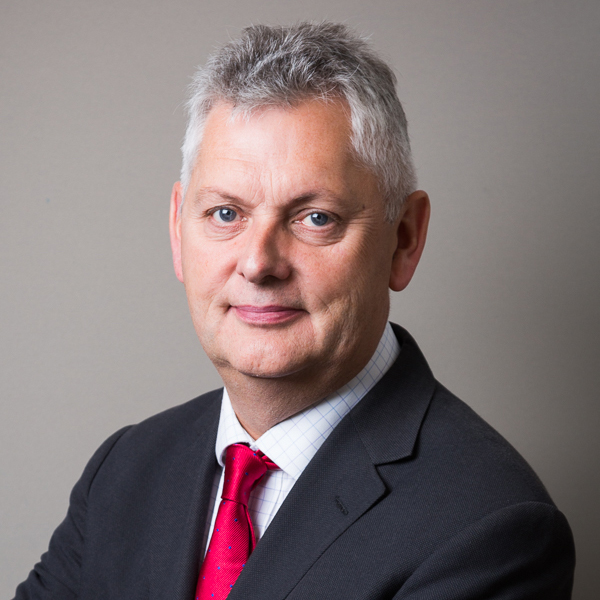 Mark joined the RSB from the major charity for hearing health and deafness, RNID, where he was the executive director for science and enterprise (2004-2009).
Prior to this role, he was the UK's lead policy official for negotiating and implementing a range of EU business related environmental legislation and First Secretary (Trade Policy) at the British Embassy in Tokyo. Mark has managed and undertook biosensor research, managed Government LINK programmes, and worked on innovation, S&T and space policy. He was responsible for setting up the Government's Faraday Partnership Programme, the £30m environmental body WRAP, and worked on the 1993 Science & Technology White Paper.
Mark has been vice-chair of the Science Council's board and is currently a trustee of the Freshwater Habitats Trust.
Mr Kenneth Allen FLS CBiol FRSB
Society of Biology, Interim Chief Executive, 2009

Ken has had a long career in the worldwide healthcare industry including medical devices, clinical diagnostics, pharmaceuticals, biopharmaceuticals and drug delivery systems with experience of overseas markets, particularly Japan.
Ken has been a director of his own business consultancy company SERVSOL LTD since 1998, specialising in project/interim management work both in the public and private sectors.
As Interim Chief Executive, Ken managed the merger of the IOB and the BSF to create the Society of Biology. Prior to that he was National Branches Coordinator of the IOB and has been Chairman of the London Branch, Treasurer of the North Wales Branch and is currently treasurer of the Thames Valley Branch. For his work, Ken was awarded the Society's President's Medal.
---
Institute of Biology and Biosciences Federation
Professor Raymond Dwek CBE FRS CBiol FRSB
Institute of Biology, President, 2008 - 2009

Raymond is an acclaimed chemist and his research at the University of Oxford is in Glycobiology - how the glycans, chains of sugar molecules that decorate many of our proteins and lipids, are important in biology.
He is founder and director of the Oxford Glycobiology Institute.
Raymond was appointed CBE in 2013 for services to UK/Israel scientific collaboration and in 2018 received a Lifetime Achievement Award from Ben-Gurion University for helping to build the National Institute for Biotechnology in the Negev (NIBN).
Professor Edward Hindle FRS FRSE FRGS (1886 - 1973)
Insitute of Biology, President, 1950 - 1952

Edward was an entomologist who specialised in the study of parasites.
He was Regius professor of zoology and curator of the Hunterian Museum, University of Glasgow (1935-1943), scientific director of the Zoological Society of London (1943-51), general secretary of the British Science Association and Honorary Secretary (1951-61) and Honorary Vice-President (1962) of the Royal Geographical Society.
Edward was elected a Fellow of the Royal Society in 1942 and was the founding President of the Institute of Biology.
Dr Richard Dyer OBE
Biosciences Federation, Chief Executive, 2006 - 2009

Richard is a neuroendocrinologist whose distinct scientific contributions were on understanding how specialised nerve cells in the brain regulate hormone production and thereby control the female reproductive cycle.
Richard joined the Babraham Institute in 1974 and later became director (1994-2005). In 1986 he was awarded the Annual Medal of the Society for Endocrinology and 1987 the Medal of the Polish Physiological Society.
He was vice president of the European Science Foundation and a member of the Babraham Bioscience Technologies board.
Professor Alan Malcolm CBiol FRSB
Institute of Biology, Chief Executive, 1998 – 2009

Alan has been an expert adviser to Select Committees in both the House of Commons and the House of Lords and was formerly Executive Secretary of the Parliamentary and Scientific Committee.
His background is in academic biochemistry, with particular reference to medical applications. He held posts as director general of the Flour, Milling and Baking Research Association and director of the Institute of Food Research (1994-99).
Alan is a Scientific Advisor to trustees at Oxford International Biomedical Centre and has published more than 200 scientific papers. He has been on the editorial boards of several review journals including Outlook on Agriculture and Science in Parliament.
Darrell Copp (1922-2010)
Institute of Biology, General Secretary, 1951-1982

Darrell or "Dax" to all who knew him was a physicist by training, completing his degree at the then University College, Southampton, before entering the Admirality Signals Establishment at Witley to work on radar.
He joined the British Association for the Advancement of Science in 1974 and was awarded an honorary MTec.
In 1958 Dax set up the Council for Nature, bringing together groups of volunteers to improve the natural environment. He used the Institute of Biology to establish the first European Communities Biologists Association. His contributions have been recognized through the Dax Copp Travelling Fellowship.